This summer I went to Romania for the first time, a visit I thoroughly enjoyed. The country was an enigma of welcoming openness and hardened reserve. It's certainly a meeting of East and West; you do feel you're in Europe but the countryside is reminiscent of a country like India.
We took a beautiful overnight train from Budapest to Brasov, which is a much more intimate way to first enter a country than in the blur of a speeding car. We could see the houses and the fields and the people, like a movie playing out the window. The sun set on one world and rose on another.
Bran Castle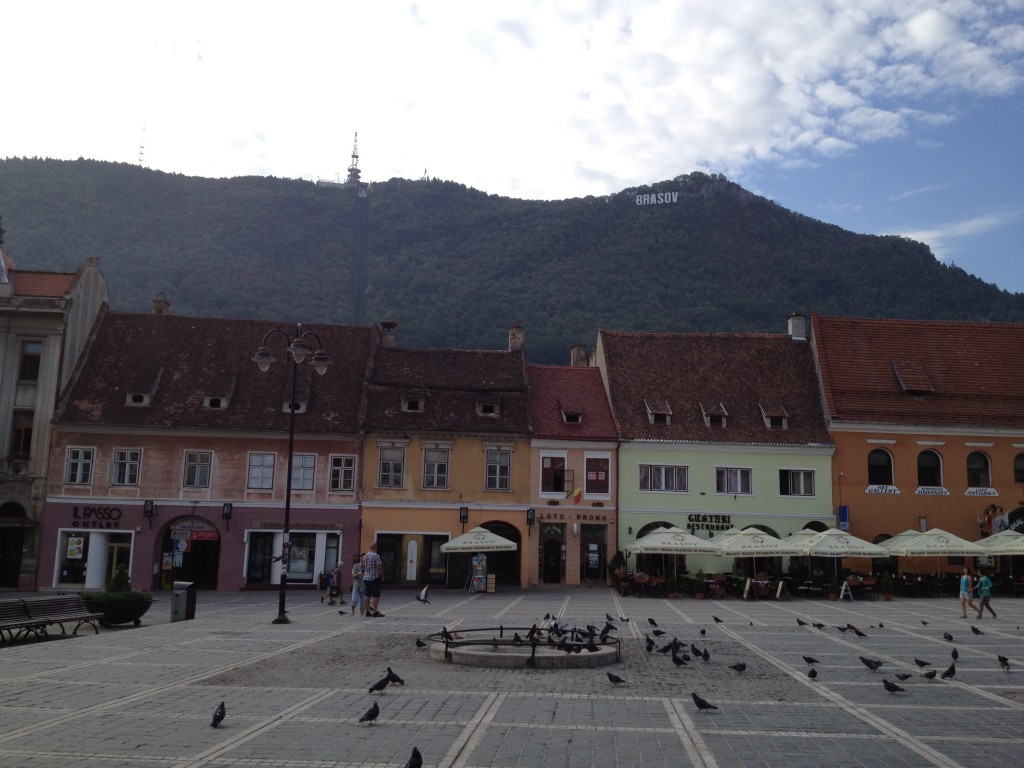 We got off at Brasov at 8:20 a.m., after a night of many sights and slight sleep. Green mountains surround the well-aged town, and cobblestones, cafes and shops invite you in. After breakfast, we went to Bran Castle, the castle associated with Vlad the Impaler and Dracula, which in itself wasn't all that besides a great view and an impressively spacious place to live (all the original furniture was removed three years ago when the museum was privatized, and now resides in a nearby state-run museum of a crowded 8 rooms instead of the castle's 57, explained our guide).
But the visit was well worth it for the tour, given by a volunteer named Ardina, which was honest, informative, interesting, funny and quite charming. Basically, there's no connection between the castle and Dracula: Bram Stoker, who had never been even remotely nearby, described Dracula's castle identically (perhaps coincidentally), but the location — and the association of Romania with vampires — was a mistake (this is the land of werewolves).
After movies about Dracula came out in the middle of the 20th century, people came looking for him. "Romanians are extremely smart," said Ardina, and when visitors asked the few residents if this was where Dracula lived, they said "I don't know." Then the movies came to Romania. And then tourists returned, this time with money. And so when they asked if this was where Dracula lived, the Romanians said "maybe."
"And when you hear 'maybe,' to you it means 'yes,'" quipped our guide, "and to them it meant 'no.'"
Of course, people come to hear about Dracula, so the tour guides indulge — there's a whole room dedicated to his story. But our guide was refreshingly and amusingly honest about how far the myth grew from the "truth," before you even start to consider the existence of vampires.
Along with plenty of stories, both historical and mythical, we also got a sickening description of how Vlad became "the Impaler" by killing people in the cruelest, most painful way possible.
After passing through the village of booths outside the gate selling souvenirs, toys, craftwork and clothing, we sat at a cafe for drinks. A Romanian friend of ours who was showing us around got us a loaf of kürtős kalács (sometimes called chimney cake in English), a delicious, sugary pastry that comes in a long hollow spiral. You peel the thin pieces off like unraveling a giant one of those cardboard tubes at the center of paper towel rolls.
Padina Ursului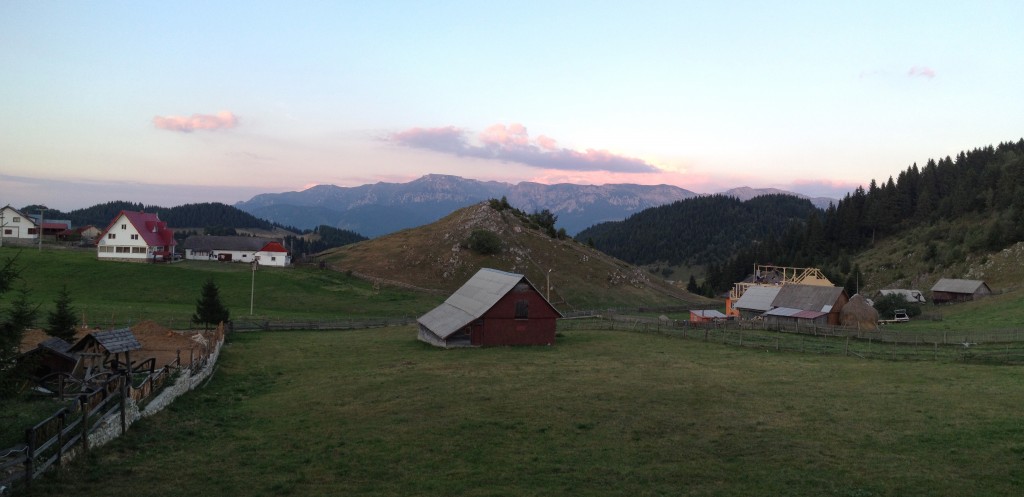 We stayed the night in a lovely hotel up in the mountains, less than half an hour from Bran Castle. The view was wonderful, with mountains and green fields; people were working and building in them while groups of guests sat around the large wooden tables outside. There was a pool table inside, a ping pong table in a small pavilion outside, and a barbecue area where a man cooked meat.
There were many nice places to sit — to think, to write, to chat or eat or drink, or simply to relax. But exploring alone, I felt like I had wandered into a large private family gathering, with no one I knew. I felt unsure of my place, but no one minded my misplacement.
We had a large enough group that our dinner was in a separate room with a panoramic view of the mountains. It was a traditional Romanian meal, and our quiet server brought course after course, each more lavish and filling than the last. It was a feast.
In order of appearance:
Tuica (A strong alcohol ["the Romanian vodka"], which is drank before the meal because then, apparently, you'll be able to eat more)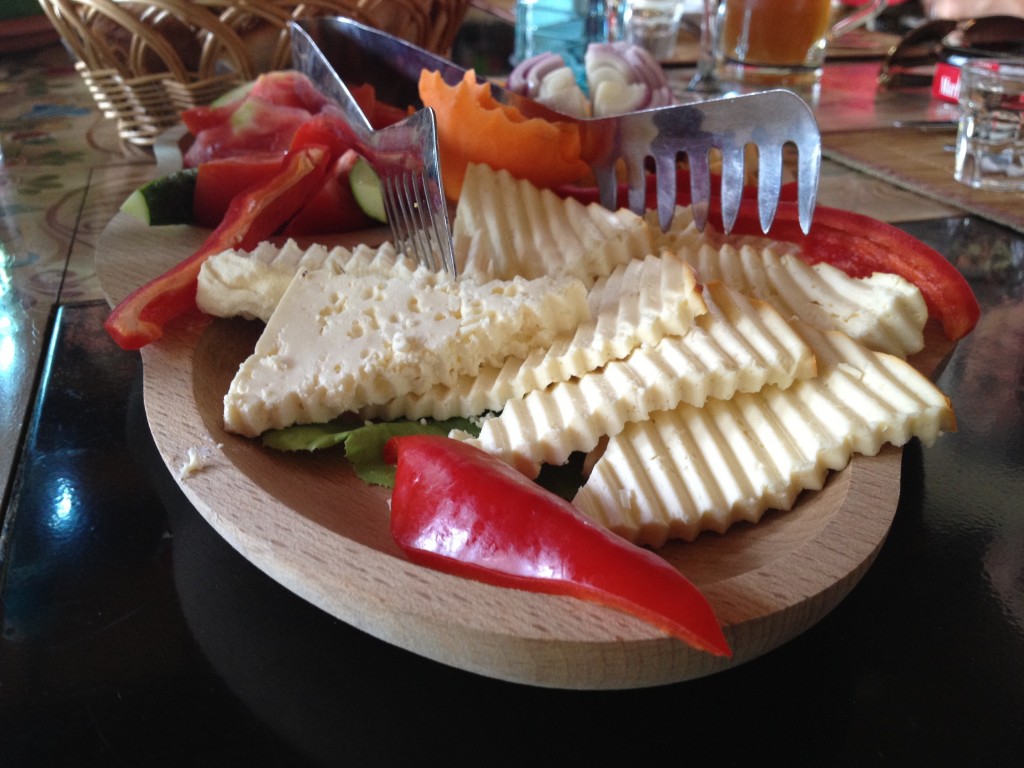 Telemea cu ardei gras (Cottage cheese with red pepper)
Brinza de burduf (Romanian sheep's milk cheese)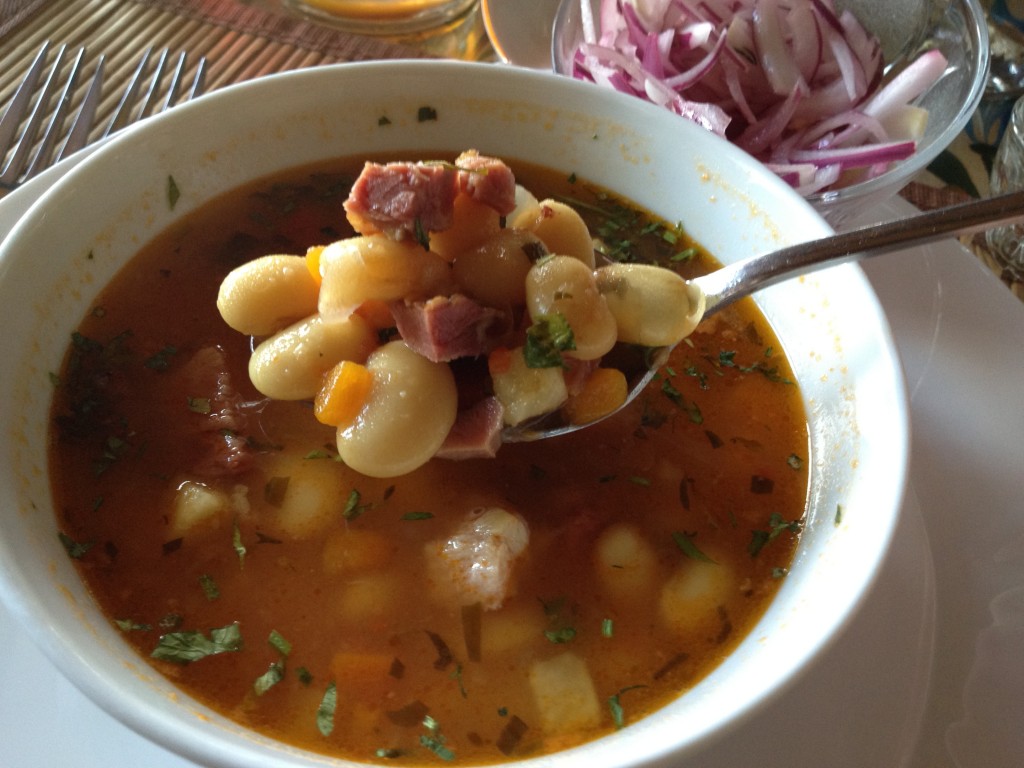 Ciorba de fasole cu ciolan (Bean soup with pork)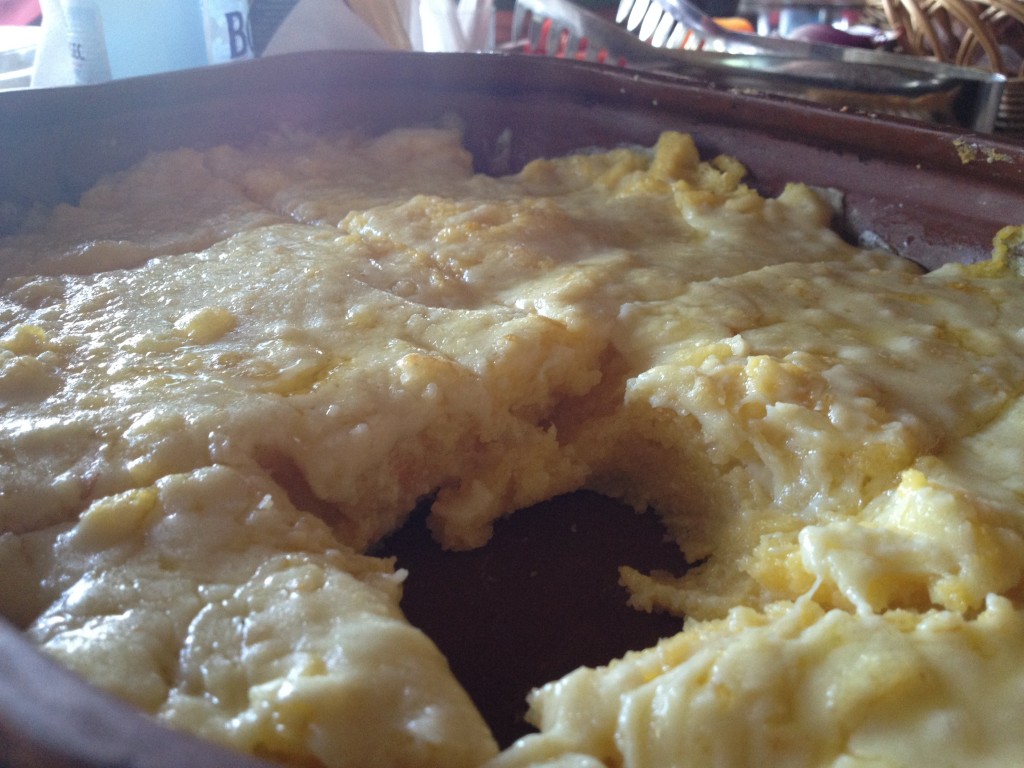 Bulz (Specially prepared maize porridge with cheese)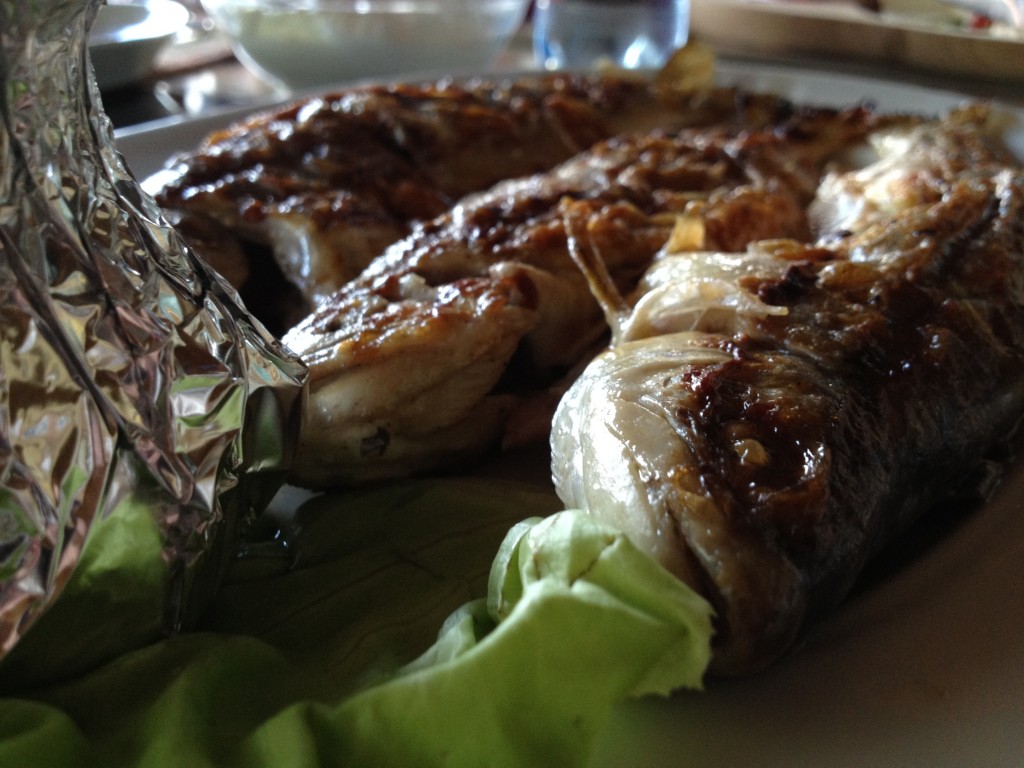 Pastrav la cuptor (Baked trout, with lemons in the aluminum foil). I had a whole one to myself.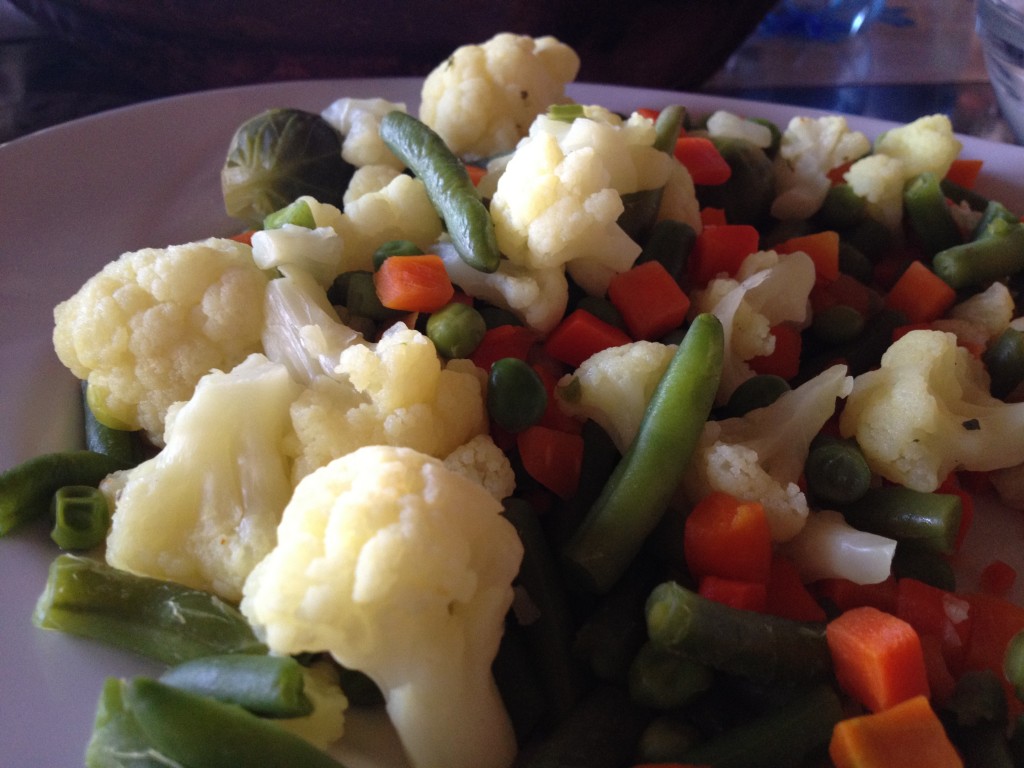 Vegetables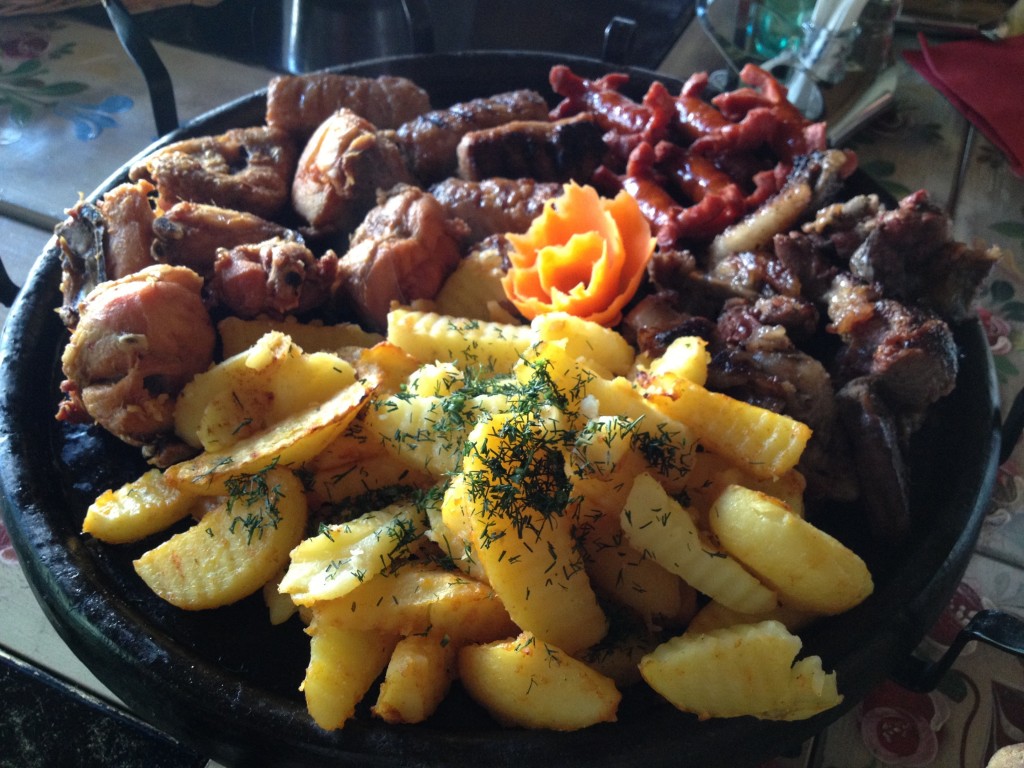 Friptura vita, friptura miel, friptura porc, cirnaciori, cartofi la cuptor (Roast beef, roast lamb, roast pork, sausages, and baked potatoes)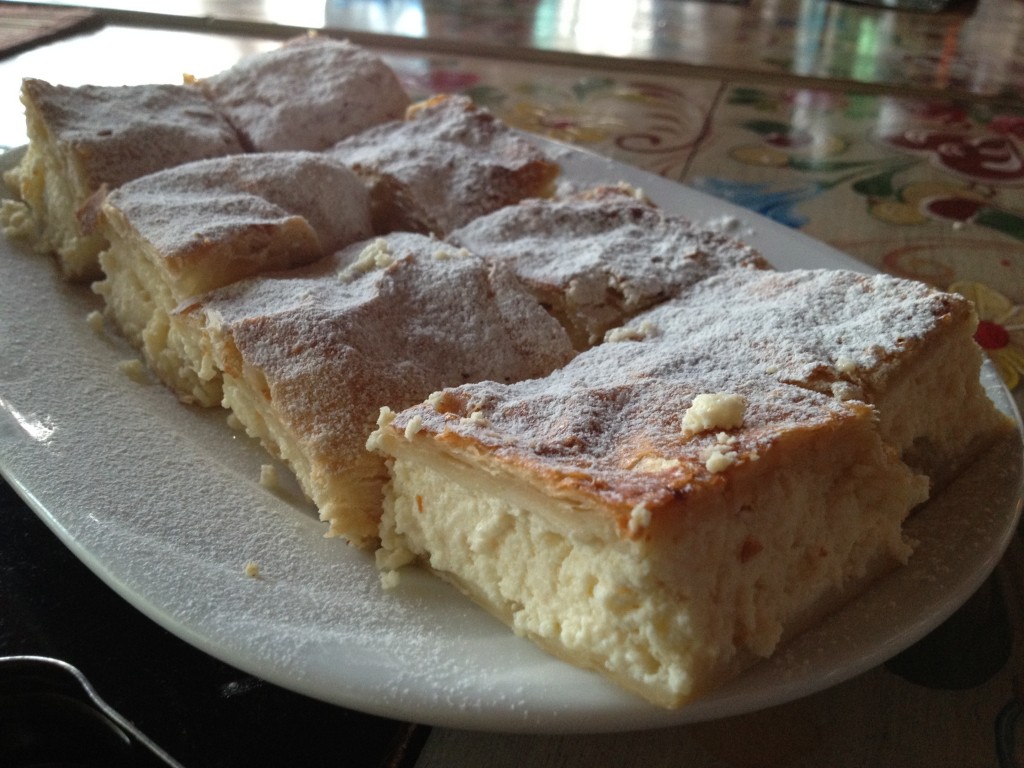 Placinta cu brinza (Cheese pie)
By the end, I was so stuffed I hesitated adding honey to my tea.
After dinner, we went on a slow walk down the road, with a full moon in the sky (in werewolf territory!). The road was dark but the houses seemed lively — lest we forget the pervasiveness of American culture, Flo Rida's "Right Round" blared from an open doorway. In a courtyard, kids played a rowdy ball game. But for the most part the night was tranquil, and perfect for a quiet stroll, as long as we kept our eyes on the road to avoid the many cow pies, and to step aside for the occasional speeding car.
Back at the hotel, groups still populated the tables outside, and classic rock played softly from a set of speakers by the restaurant's door. I was feeling more comfortable of my place in the outside area. There was free Wi-Fi if you knew where to sit (outside on the balcony or in the adjacent sitting room both worked for me), but using it more than a little felt like it would cheapen the natural, un-distracting atmosphere of a hotel in the Romanian mountains.
The next morning, we ate a breakfast buffet in the restaurant, of thankfully simpler food: eggs, cheese, vegetables, grilled tomatoes with melted cheese, sliced meats, toast and cereal.
Bucharest
We drove to Bucharest, and the contrast of city and countryside was clear. I would have liked to spend more time in the countryside, because while Bucharest was nice, it was like any city — busy, crowded, modern. I found the culture and antiquity of the mountain more unique and alluring. In Bucharest, everything was big: big buildings, big streets. Big advertisements. The advertising was pervasive; walking down a main road one night, there was more light from a giant electronic advertising screen than from the street lights.
The weather was hot — the hottest summer in decades — and if I were to summarize the sightseeing of summer days in Bucharest, it would be this: short shorts and long legs. And the nights: short shots and long drinks.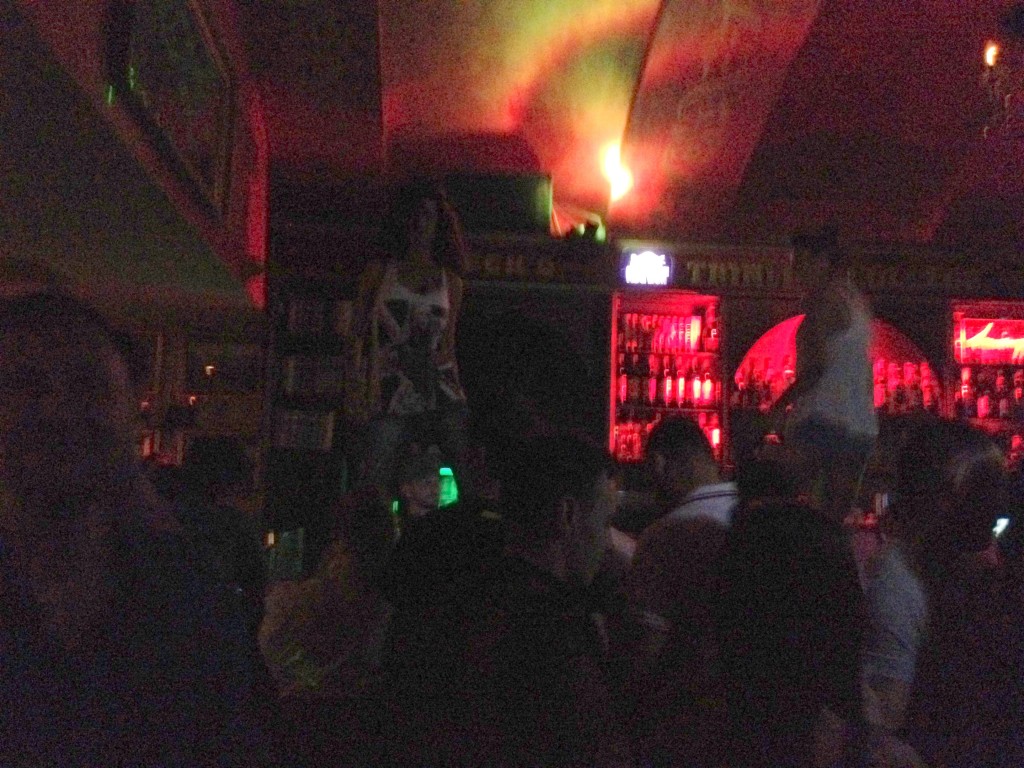 We went to the Lipscani/Old Town area at night, and the streets were clustered with bars and cafes, with people lounging at the tables outside and dancing to loud music inside. As the night got later, every venue seemed packed, and people flooded the streets, like fleshy tributaries feeding the surging social river. The streets were as crowded as the bars and cafes that lined them; not a meter of space was wasted.
Sitting with a drink at one of the bar's outside tables, the people-watching was world class. An endless stream of locals and tourists pushed through the corridor left between each venue's tables and chairs, of many ages, types, and outfits, an unlikely ensemble of late night characters.
Drinks are cheap, and there was a good variety of music between the various venues. And there's much more nightlife than the area we sampled. If you're looking to party, Bucharest won't disappoint.
The food is cheap too, and you can have an excellent meal for the price you'd pay for an average dinner in a country like France.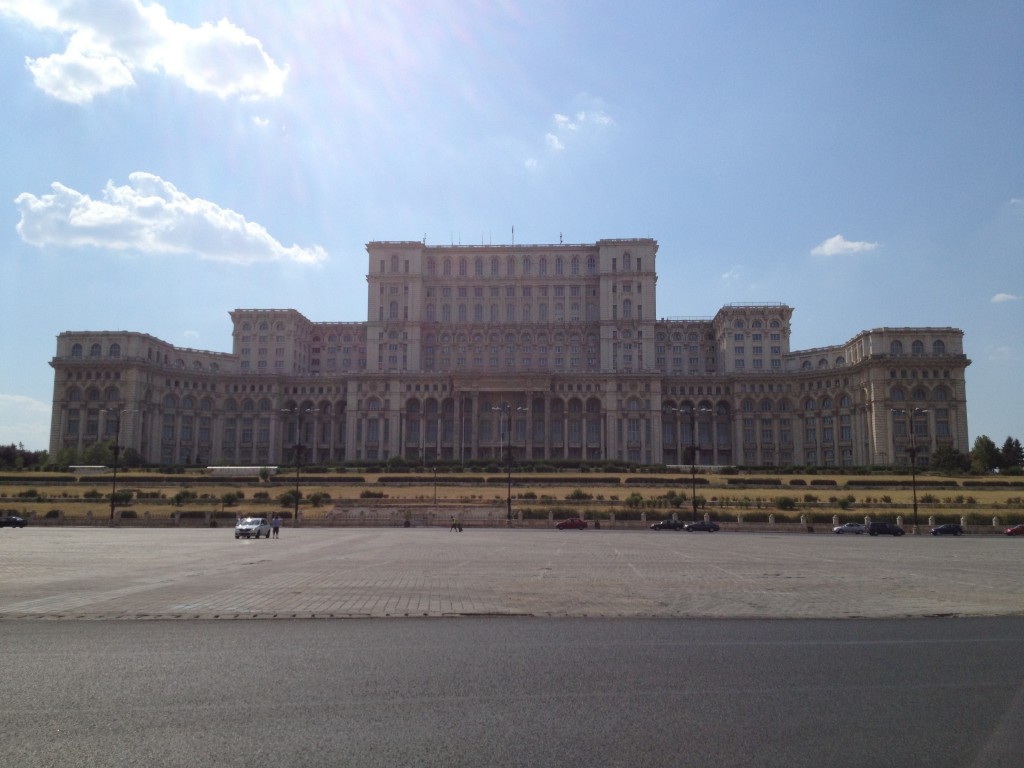 I didn't do much sightseeing, but I did walk to the Palace of the Parliament (often called the People's House), a massive, imposing building that dominates everything around it. The scale is absolutely bonkers. Which is not a word I use lightly (or ever). It's the largest nonmilitary administrative building in the world, and the heaviest building in the world. The inside was closed when I arrived, but it's worth visiting simply for the sheer scale of it.
To be continued
My time in Romania was fleeting and indulgent, an intriguing, alluring summer fling that left me wanting more. I do hope to return some day, to trek the mountains and partake in the party. It's a country and a people begging to be discovered and savored.
(Special thanks to Victor for labeling the food)