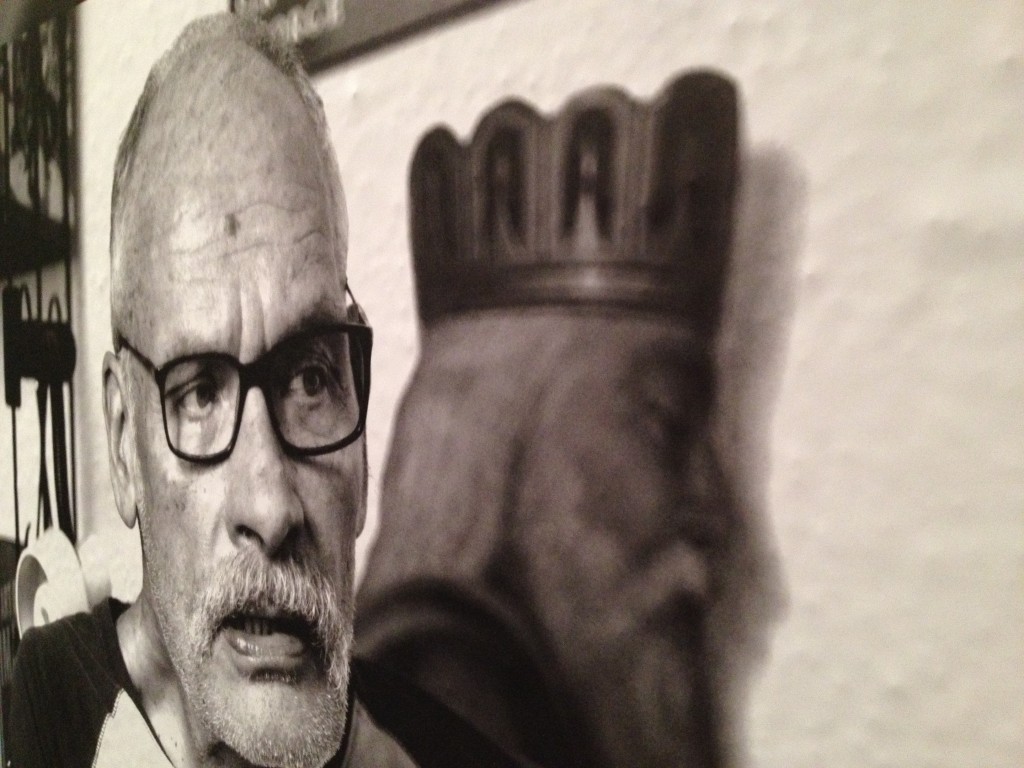 I first heard of the Kuchar brothers — George and Mike — in a class (taught by Denah Johnston) earlier this year where we watched portions of a documentary on them and saw clips from their films, and it was interesting. But that was it: just interesting. Weird, unconventional, unique, even inspiring in some parts (but invoking a feeling of pity in others). Certainly interesting — but nothing more. I wasn't hooked. It didn't have any obvious lasting effect on me.
Then I visited the Living in Studio Kuchar exhibit at the San Francisco Art Institute. Seeing all of George's work carefully arranged, presented uniquely and interactively in a mesh of multimedia creativity, in the company of ardent fans and others like myself only just discovering his incredible legacy, changed everything. I "got" something more about his work. Arriving in an excellent mood, having a good time even before entering the main exhibit and the free wine and food certainly helped put me in the right place, but it was the awesome set up and the art itself that sealed the deal. I didn't feel like I was seeing his art and films, I felt like I was experiencing them, discovering them.
The pictures spread askew across all the walls, framing projections of selected films. Brightly colored walls and huge, catchy quotes. Hanging screens with more video. Televisions with more video. A private viewing room with more video. Video tape players attached to the televisions so you could choose what to watch, and a record player where you could choose the record. Benches to sit on to watch the films, or just to take it all in. Paintings. Random curios. A stage with costumes, props and cameras.
The sheer number of films playing simultaneously made it impractical for clear sound to accompany each as you walked by (at least with the opening night crowd), but the lack of isolation for each movie made me focus on the image and the filming more intently. The emphasis of the exhibit seemed visual, although audio definitely played an important role — there were headphones for the television sets, there was the record player, and the general cacophony of so much going on at once.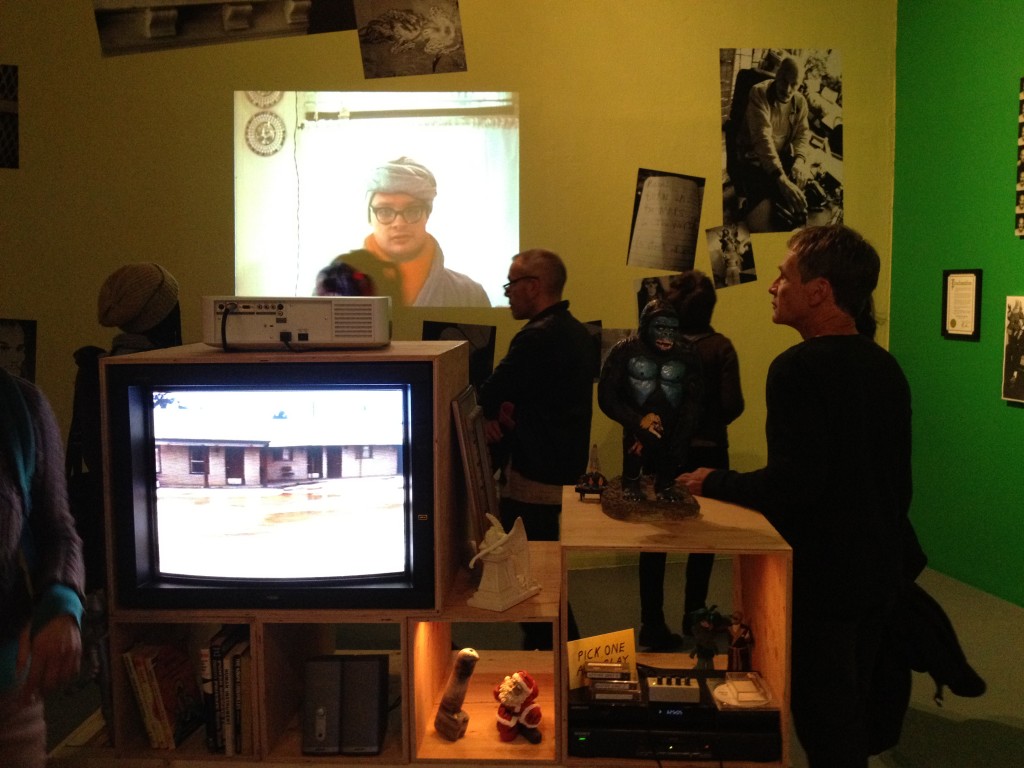 One of my favorite parts of the visit and the exhibit was primarily auditory (at least in how it affected me). One of the tape stations, which consisted of a video tape player, headphones, and a television set (sharing the shelf space with various trinkets), featured a selection of his Weather Diaries. I put the headphones on and began listening. The tape was already almost an hour in, but it didn't matter. It had a wonderful effect on my mind. It was calming, isolated me from the chaos of the packed exhibit, even stimulated a meditative state. It reminded me of those nature tapes (like rain forest noises) people buy to help them relax or sleep. I didn't need to focus on what he was saying — the words and weather sounds just rolled over me, relaxing background noise to the scene around me. Sometimes I would watch the video playing on the television in front of me, sometimes I would just listen and let my eyes wander.
Another favorite moment of mine was a performance on the second floor. A stage was set up and some people in costumes ad-libbed while they were filmed by both collaborators and passing exhibit visitors. I don't know if the "actors" were involved with the exhibit or the Kuchar-related teaching and activities at SFAI, but it didn't matter. It was a very surreal scene. It was fascinating. And it really brought the exhibit full circle.
The screening and speakers were another highlight. The stories and thoughts shared about George Kuchar were interesting, personal and flattering. The film shown, Temple of Torment, was like much of George's work equally odd and intriguing. It was a peek into a bizarre life.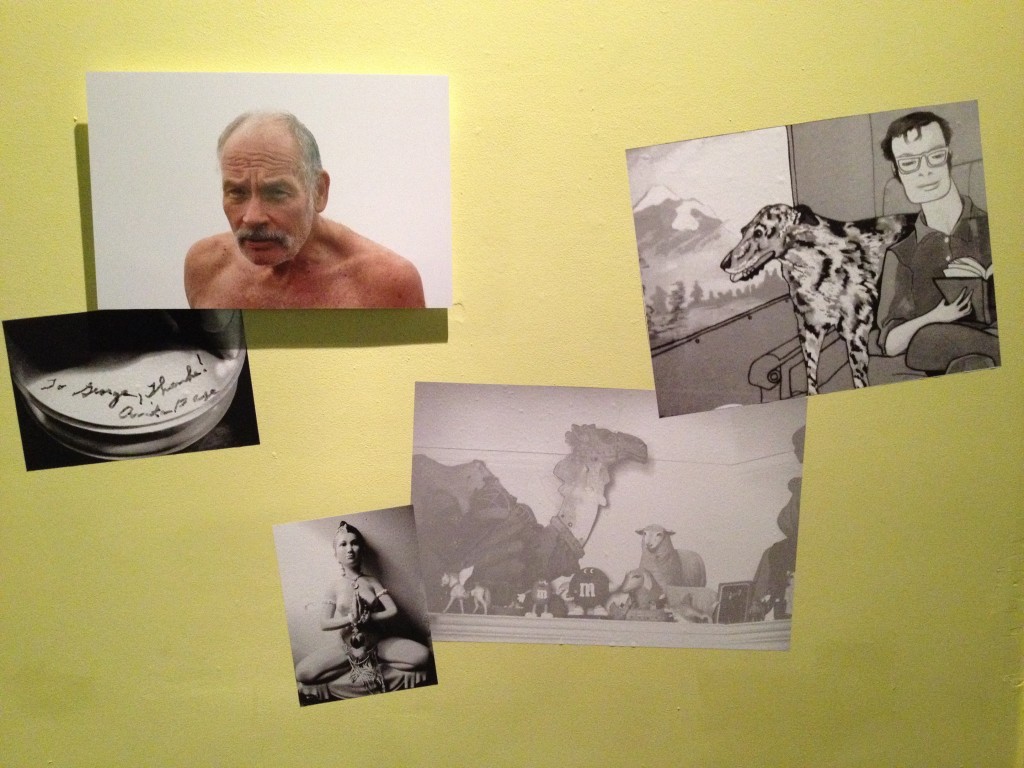 I feel like I didn't learn about George Kuchar's films as much as I learned about him personally, accompanied by an overview of the variety of his body of work. Living in Studio Kuchar intrigued and captivated me, and it left me feeling informed and enriched. As far as intimate knowledge of Kuchar's body of filmmaking is concerned, however, I know only slightly more than before (but this was no fault of the exhibit, I just didn't spend much time watching films).
The exhibit was also enjoyable because of the people. I went with a friend, met my teacher and classmates beforehand, and then there were the speakers, the people performing and all the other visitors that added to the atmosphere and the scene. I got to talk to a few cool people (although I forgot to even get their names).
There's one interaction that stands out most, not because it was positive, but because it was raw and unexpected. At one point my shoulder bag accidentally collided with a middle-aged woman passing by me from behind, as I was using my iPhone to take notes and pictures.
"Ow!" she exclaimed. "You backed into me. People can't see when they're doodling on their phones."
"Oh, I'm sorry, I didn't see behind me," I replied.
"Put your masturbator away!" she continued, riled, gesturing at the phone still in my hand.
"I'm capturing it for myself."
"You can't take it in the first time you see it?"